fleimio & Niimaar Pop-Up 042017 @ Out of the Dark Helsinki
Both Niimaar & fleimio are finnish brands. Their Pop-Up will be in the Out of the Dark concept store in Helsinki downtown on the 3rd – 29th of April.
Visit the Oot Drk and get acquainted with Niimaar & fleimio products on Eerikinkatu 3B, Helsinki. More info oot-drk.com.
Functional Design
The design of our products results from combining  functional design with the Nordic lifestyle. There are many ways to use our products.
For example fleimio woodhopper helps you in transporting firewood logs. Read more.
For interior decoration
Our versatile products suit well home & second home decor as well as office, hotel, public venue, restaurant and boutique interior.
The fleimio mini trolley for example is a sidetable for one – and a small book shelf for another. Read more.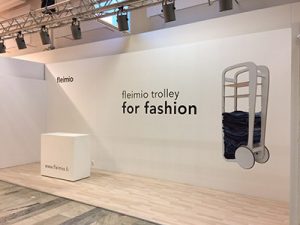 Fleimio Exhibited at Stockholm Furniture and Light Fair On the
7.-11th of February 2017
Fleimio exhibited at the Stockholm Furniture and Light Fair on the 7.-11th of february 2017.  Fleimio stand was AG:17, which was located between the halls A and B.
The concept in brief: 2 sizes, 4 colours, 3 models – and a new service for interior designers and architects to get customised fleimio trolleys.
Read more about our trip to Stockholm on our blog.